The renewal process in five steps
Your eHerkenning and/or your eRecognition permissions are about to expire and you have received an email to renew. Please review the step-by-step plan in advance so you know what information you need to renew.
Step 1 What do you wish to use eHerkenning for ?
You now have a means of a specific assurance level with corresponding permissions. When renewing, it is possible to change your permissions. Think about the services you want to access now or in the future.
assurance level: The service provider you will be logging into determines the assurance level you need. The overview of service providers provides a current overview of what assurance level the various services require.  
Authorizations: An authorization gives you access to one particular service provider. When renewing a eHerkenning from Reconi, the first 25 permissions are free. You do need to specify these authorizations immediately during renewal. You can also request an authorization that authorizes you at once for alle diensten.
Step 2 Who may renew
At assurance level EH1, the user may renew their own eHerkenning .
For EH2 and above, a authorized representative should be specified.
See the page authorized representative for more information on how to complete the "representative" step on the renewal form.
Step 3 What data do you need for the renewal of your eHerkenning and/or your eHerkennings authorizations?
During the renewal process we will ask you to check the data known to us and to complete certain data again. Which data you need to provide depends on the assurance level. In the table below you can see which data is requested per assurance level .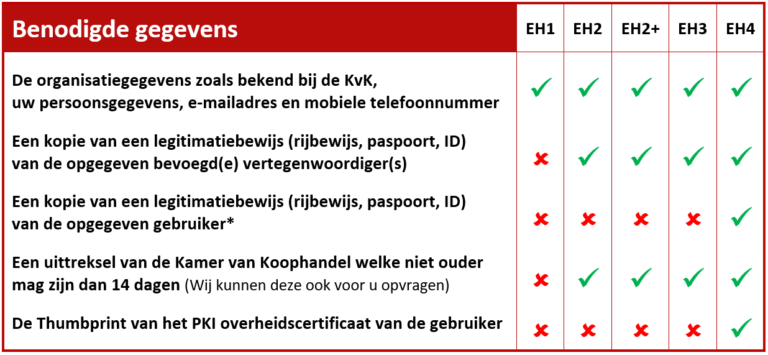 * If the user is not employed by the organization for which the authorization is issued, the applicant must send a copy of the user's identification with the application. See "Identification requirement" for more information.
Step 4 Renewing via My Reconi request form complete and submit
Using the information collected, you can then renew your means . If you have a means at assurance level EH2, EH2+ or EH3 you can renew by clicking on the link in the renewal email you received from us. After this you can go through the application process online.
Step 5 Physical identification
For assurance level 3, you may need to be physically identified (for example, if you are authorized representative yourself). This is done by our partner AMP Group. They will visit you to identify you. You will receive an invitation to this by e-mail.
Step 6 Processing renewal
When we receive your application it will be processed immediately. If all information is entered correctly, your means will be extended immediately after your information is processed. You will be informed by e-mail. If any information is missing, one of our employees will contact you.